Preschool Gymnastics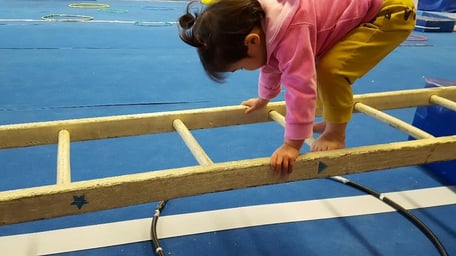 Preschool gymnastics is a part of Tri Star's Gym For All (GFA) programme, and is all about fun and exploration in a safe and challenging environment. All programmes are based on the fundamental movement patterns and they include swing, spring, landings, statics, rotation and manipulative skills.For all Preschool enquiries, please contact:
Gillian Tracey
GFA Manager
gillian.tracey@tristar.org.nz
GymTots
8 months - 2.5 years - 45 mins ENROL NOW
GymTots is designed to give the young toddler a safe and adventurous space to play.
Suited for confident crawlers to toddlers.
This programme encourages children to swing, roll, jump, and balance.
With a balance of freetime and structure it's a great way for toddlers to grow confident with their bodies.
PlayGym
2 - 4 years - 45 mins ENROL NOW
PlayGym is gymnastics activities made fun.
Test out their physical abilities in a safe fun environment.
Learn to roll better, jump higher, balance longer.
Adults participate so children get to learn with their adult.
Structured so children are busy and engaged all the time, with 5 minutes freetime for them to repeat their favourites.
PlayGym Plus

3+ years - 45-60 mins ENROL NOW
PlayGym Plus is for the confident 3/4 year old ready for some independence.
Suited to kids 3/4 years old who are independent.
Adult's sit back and relax (until the last 15mins). All daytime classes have a 15 min freetime component
Kids work towards gaining particular skills and mastering the skills they learnt in PlayGym.
3 year olds need to do at least one term of Play Gym before joining the PlayGym Plus Class, if on their first lesson in Play Gym the coach believes they are capable of going straight into a Play Gym Plus class they will let you know.
It is recommended that 4 year olds do a term of Play Gym prior to joining a Play Gym Plus class.