Parent Support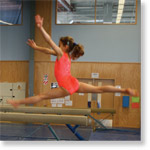 At Tri Star we provide a safe friendly environment for your child to participate in a gymsport program.
We have encouraging and enthusiasthic coaches and have appointed first aid officers at all sessions with fully equipped first aid kits.
We deliver well balanced structured classes, that suit all abilities and ages. We value parent's feedback, so please ask questions at anytime.


Helping out as a caregiver
Tri Star Gymnastics Club Incorporated is a non profit organisation and a registered charity. We rely on programme tuition fees, facility hireage, grants and fundraising to maintain our new facility, deliver quality programmes and upgrade equipment.
We call upon parents during the year to help support our major fundraising efforts, to help in Canteens, BBQs, and our many other activities. This is a great way to meet other parents and get to know coaches and staff plus be part of the Tri Star community.

Parents Code of Conduct
Do not force an unwilling child to participate in sports.
Remember children are involved for their enjoyment not yours.
Encourage your child to always listen to the coaches.
Teach your child that honest effort is as important as victory so that results are accepted without undue disappointment.
NEVER RIDICULE OR YELL AT YOUR CHILD for making a mistake or losing a competition.
Remember that children learn best by example. APPLAUD FAIR PLAY.
DO NOT PUBLICLY QUESTION the Officials judgement and never their honesty.
Recognise the value and importance of coaches.