Adults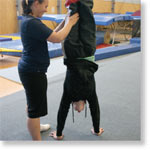 Adult gymnastics is a part of Tri Star's Gym For All (GFA) programme. We offer adult classes for anyone over 16 years old.
A range of equipment is available, this includes tumble tramp, sprung floor and foam pit.
For all Adult gymnastics enquiries, please contact:
Gillian Tracey
GFA Manager
gillian.tracey@tristar.org.nz
We offer two options for adult's.
Structured Classes
A structured class where individuals decide on skills they want to work on and area's of gymnastics which they wish to improve or learn. Every lesson will have a component of strength and flexibility and a coach will be leading each class.
The class runs for 90 minutes and you enrol in a block course. The block course weeks are:
Block 1: 8th February - 18th April
Block 2: 3rd May-11th July
Block 3: 26th July-3rd October
Block 4: 18th October-19th December
Class options are Tuesday or Thursday 7.45pm - 9:15pm $225.00/term ENROL NOW
Adults Open Gym
Is a non-structured class with a coach there for advice and safety. Classes run for 2 hours. Participants have full use of equipment. $18 per session (please bring the correct change or pay by eftpos). Wednesday 7:45pm – 9:45pm and Sunday 5:00pm - 7:00pm. Wednesday Open Gym starts Wednesday 20th January
All participants are required to enrol via the website for the class, if attending Open gym (nonstructered) please select Open Gym 16 years as the class option.