Governance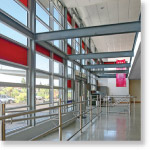 In April 2019 we held elections for our new 'Tri Star Board'. This is the form of governance that we have now adopted.
The Tri Star Board is comprised of up to 7 members. 5 board members are elected, for a period of 2 years, by Tri Star's members at the AGM, and the elected board may then co-opt/appoint up to three additional board members, for a period of up to 2 years.
One of the first objectives of this board was to produce a strategic plan. Out of this strategic plan came our vision statement for the future...

"Growing gymnastics, Growing people, Growing champions"
Tri Star's current Board Members
Nina Lammiman- President
Mark Lindon
Daniel Good
Rachelle Wellington
Carrissa Lynas
Paul Quickenden
Governance Documents
Please click on the 'preview' items below to open a PDF of the following documents:
Tristar Gymnastics Club-Constitution/Rules of Incorporation
Board Member Nomination Form
Strategic Plan 2016-2020
2018 AGM Minutes
2019 Annual Report
2019 Financial Report
Tri Star Organisational Structure - updated October 2020