Governance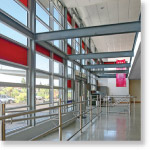 Tri Star is a not for profit organisation governed by a Board of Directors. The Tri Star Board is comprised of up to 7 members. 5 board members are elected, for a period of 2 years, by Tri Star's members at the AGM, and the elected board may then co-opt/appoint up to three additional board members, for a period of up to 2 years.
One of the first objectives of this board was to produce a strategic plan. Out of this strategic plan came our vision statement for the future...

"Growing gymnastics, Growing people, Growing champions"
Tri Star's current Board Members
Paul Quickenden - President
Mark Lindon - Vice President
Daniel Good - Secretary
Nina Lammiman
Carrissa Lynas
Evelyn Williamson
Governance Documents
Please click on the 'preview' items below to open a PDF of the following documents:
Tristar Gymnastics Club-Constitution/Rules of Incorporation
Strategic Plan 2016-2021
Board Member Nomination Form
2021 AGM Minutes
2020 Annual Report
2020 Financial Report
Tri Star Organisational Structure - updated October 2020