Open Gym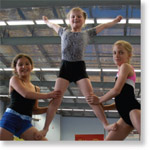 Open Gym is a part of Tri Star's Gym For All (GFA) programme. Open gym is a pay-as-you-go gymnastics session that takes place during term time perfect for those new to gymnastics. With sessions available from preschool through to adults, there are classes for all ages.
For all Open Gym enquiries, please contact:
Gillian Tracey
GFA Manager
gillian.tracey@tristar.org.nz
Our coaches are in attendance for advice and safety, but otherwise Open Gym is a great opportunity to just have a go. So whether you are a parent of a preschooler looking for a rainy day activity, or a teenager keen to develop your tricking skills in a safe environment, Open Gym is for you!
0-4 years $10/person: Monday/Tuesday 12.30-2.00, 2-11 years $10/person: Sunday 3.30-5.00 Parents need to be onsite for the duration of open gym as it is an unstructured pay for play session. Please be aware no Children's open gym will take place during Level 2.
OPEN GYM RUNS ACCORDING TO SCHOOL TERMS NO OPEN GYM DURING SCHOOL HOLIDAYS
Adults age 16+ $18/person: Wednesday 7.45-9.45 or Sunday 5.00-7.00pm.
Open gym for Under 16 years is for recreational athletes only. Competitive athletes who wish to do additional training please click here for private training options