Open Gym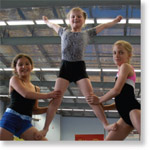 Open Gym is a part of Tri Star's Gym For All (GFA) programme. Open gym is a pay-as-you-go gymnastics session perfect for those new to gymnastics. With sessions available from preschool through to adults, there are classes for all ages.
For all Open Gym enquiries, please contact:
Gillian Tracey
GFA Coordinator
gillian.tracey@tristar.org.nz - open gym programme enquiry
Our coaches are in attendance for advice and safety, but otherwise Open Gym is a great opportunity to just have a go. So whether you are a parent of a preschooler looking for a rainy day activity, or a teenager keen to develop your tricking skills in a safe environment, Open Gym is for you!
We have sessions for 0-5 years $10/person: Tuesday-Friday 12.30-1.30, 5-11 years $15/person: Sunday 2.30-3.30, 12-16 years $15/person: Friday 7.15-8.45, and Adults $15/person: Wednesday 7.45-9.45& Sunday 5.00-7.00pm. There will be no open gym easter weekend Sunday 21st or Sunday 28th.
Open Gym runs until 16th December!