Group Bookings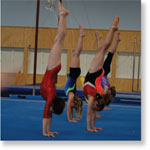 Tri Star's schools programme provides a unique opportunity for early childhood centres, primary, intermediate and secondary schools to learn skills in a safe and challenging environment. Our programmes have been developed to suit the specific age groups of the pupils involved and our staff are professionally trained and capable of working with children of all age groups.
For all schools and preschools group programme enquiries, please contact:
Gillian Tracey
Schools and Satellite Coordinator
gillian.tracey@tristar.org.nz

School / Preschool / Groups Classes

Tri Star offers a great gymnastics service where we teach large groups gymnastics. We being our qualified coaches, you bring the kids and we all have a blast!
Holiday Programme Bookings
Tri Star make their space available to external holiday programmes to bring their groups in for a day of gymnastics. If your Holiday Programme is looking for a fun, indoor activity to lift the appeal of your programme give us a call.
School Competition Gymnastics
Every year children from all over Auckland train competitive routines for Schools Festival Gymnastics. Tri Star host three of these competitions called the Tri Star Schools Festival, Remura Zones and Central West Zones.Champ or champs event in September. It is a high energy, accessible (the routines aren't too hard) participation event for kids wanting to represent their school in gymnastics! Contact our Schools Coordinator to help get gymnastics up and running in your school.