Schools / Preschools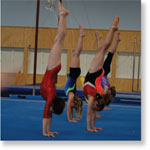 Tri Star's schools programme provides a unique opportunity for early childhood centres, primary, intermediate and secondary schools to learn skills in a safe and challenging environment.
Our programmes have been developed to suit the specific age groups of the pupils involved and our staff are professionally trained and capable of working with children of all age groups.
For all schools and preschools group programme enquiries, please contact:
Ashleigh Henry
Schools Coordinator
ashleigh.henry@tristar.org.nz - schools/preschools programme enquiry

School / Preschool Group Classes

Tri Star offers a great 'mobile' gymnastics service where we bring the benefits of gymnastics to you at your school / preschool. Whether your school is equipped with gymastics equipment or we need to bring our own, we will find a way to bring gymnastics to you!
Tri Star Gym Classes
Where students can experience gymnastics in our fully equipped purpose built facility, complete with foam pit and soft squishy mats! We offer a number of options from a one-off 'have a go' class, to a full year course. We'll tailor an experience to meet your needs and budget.
School Competition Gymnastics
Every year children from all over Auckland train competitive routines for Schools Festival Gymnastics. Tri Star host one of these competitions called the Tri Star Schools Festival. It is a high energy, accessible (the routines aren't too hard) participation event for kids wanting to represent their school in gymnastics! Our 2016 event had more than 500 entries, celebrities and a giant panda cartwheeling around the gym! Contact our Schools Coordinator to help get gymnastics up and running at your gym!
Kiwisport Gymnastics
Tri Sar Gymnastics currently deliver gymnastics into schools in the Eden / Roskill and Tamaki areas on behalf of Sport Auckland's Kiwisport programme. These classes are fully funded and run during normal school hours. Contact our Schools Coordinator to see if your school qualifies for this great service.
Testimonials
"The children and teachers from May Road School visited Tri Star to attend 2 sessions at the gymnasium, supported by specialised instructors and staff. Every class was able to visit the gym and by the end of the day all children received some expert gymnastic tuition.The visit was successful and enriching for the students and teachers. The children have greatly benefited as a result of the teachers confidence levels. We have a far better understanding of the progressions of gymnastics and how to implement these over a term. Our children thoroughly enjoyed the safe supportive environment provided by the staff at Tri-Star. We are all looking forward to our next Tri-Star visit."
Jude McCormick – May Road School
"The children from school have been participating in the Tri Star Gymnastics programme learning routines this term. The feedback from the children has been fantastic and they are delighted with the new skills they are acquiring not only in gymnastics but also in self dicipline and team work. Thank you for your superb coaches, the fabulous facility and such a warm and nurturing environment for our children."
Edna Braem – St Michaels Catholic School (Routine teaching / development sessions)
"Excellent orgnisation from staff/instructors, age appropriate and fun activities, great ideas/activities that we could adapt in our gymnastics programme."
Veni Jamieson – Newmarket Primary (Introduction to Gym session)
"We approached TriStar Gymnastics as a group of parents who were sick and tired of driving all over Auckland after school delivering our kids to their various sports events. We had the schools backing to utilise the gym equipment and found a suitable space. Tri Star was very obliging and quickly gave us the information that we wanted in relation to costs, numbers, our expectations and theirs, age ranges and more.
Two instructors came to check out the equipment and the space and gave us a floor plan for setting up the gear each week. We were overwhelmed with the response from families wanting to join, the kids are loving it and it is great for all of the kids to work together and get to know each other around the school with this common interest.
Each week the instructors have different warm up exercises and have obviously given it thought prior to arriving as they bring extra bits with them, as well we are changing the equipment around so that the kids are learning new skills all of the time.
We would thoroughly recommend this style of gymnastics, it is different from doing it at TriStar but it has certainly worked for us."
Parnell District School (After School Programme)