Schools / Gym Clubs / Satellite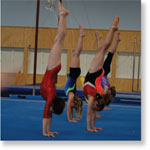 Tri Star's schools programme provides a unique opportunity for early childhood centres, primary, intermediate and secondary schools to learn skills in a safe and challenging environment.
Our programmes have been developed to suit the specific age groups of the pupils involved and our staff are professionally trained and capable of working with children of all age groups.
For all schools and preschools group programme enquiries, please contact:
Gillian Tracey
Schools and Satellite Coordinator
gillian.tracey@tristar.org.nz

School / Preschool Group Classes

Tri Star offers a great 'mobile' gymnastics service where we bring the benefits of gymnastics to you at your school / preschool. Whether your school is equipped with gymastics equipment or we need to bring our own, we will find a way to bring gymnastics to you!
Tri Star Gym Classes
Where students can experience gymnastics in our fully equipped purpose built facility, complete with foam pit and soft squishy mats! We offer a number of options from a one-off 'have a go' class, to a full year course. We'll tailor an experience to meet your needs and budget.
School Competition Gymnastics
Every year children from all over Auckland train competitive routines for Schools Festival Gymnastics. Tri Star host three of these competitions called the Tri Star Schools Festival, Remura Zones and Central West Zones.Champ or champs event in September. It is a high energy, accessible (the routines aren't too hard) participation event for kids wanting to represent their school in gymnastics! Contact our Schools Coordinator to help get gymnastics up and running in your school.
Kiwisport Gymnastics
Tri Sar Gymnastics currently deliver gymnastics into schools in the areas on behalf of Sport Auckland's Kiwisport programme. These classes are fully funded and run during normal school hours. Contact our Schools Coordinator to see if your school qualifies for this great service.