Employment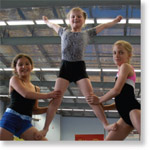 Occasionally positions become available here at Tri Star.
Please check out job vacancies below.
Be part of the Tri Star team
Gym For All/Schools Coach
We have a fulltime vacancy coming up, please open the pdf at the bottom of the page for more information.
Gym For All Part Time Coach
We are always on the look out for part time Gym For All programme coaches.
We look for enthusiastic child-friendly staff, aged from 15 years old. We provide training, although experience in gymnastics is preferred.
Please contact the office on team@tristar.org.nz - GFA part time coach employment enquiry or call 09 625 4354.