Competitive Gymnastics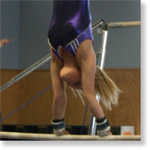 Tri Star Gymnastics has competition programmes for Women's Artistic Gymnastics, Men's Artistic Gymnastics, Trampoline and Tumbling.
We have a strong and dedicated staff who aim to see each gymnast reach their full potential. Gymnasts are selected into the competition squads based on strength, flexibility and coordination.
Gymnasts compete at local, regional, national and international events through out the year.
With a strong history of international performance at Commonwealth Games, World Championships and Olympic level, this programme has the capability of producing champions.
Women's Artistic Gymnastics
Tri Star Gymnastics offers competitive programmes for gymnasts from level one to international elite. Our dedicated team of coaches emphasise quality conditioning and flexibility programmes, sound technical progressions and instill a strong sense of team belonging into our athletes.
We provide programmes for steps and high performance athletes of all ages.
For more information about Women's Artistic Gymnastics, please contact:

Hayley Storey
WAG Coordinator
hayley.storey@tristar.org.nz - WAG competitive programme enquiry
Men's Artistic Gymnastics
Men's Artistic Gymnastics (MAG) is an exciting Olympic sport which involves six different apparatus; floor, pommel, rings, vault, parallel bars and horizontal bar.
The competitive programme at Tri Star provides opportunities for competitive boys, as well as a high performance pathway for those with the potential to reach an international level. We have a strong performance history, developing both Commonwealth and Olympic Games competitors and coaches.
For more information about Men's Artistic Gymnastics, please contact:

David Bishop
MAG Coordinator
david.bishop@tristar.org.nz - MAG competitive programme enquiry
Competitive Programme Documents
Please click on the 'preview' items below to open a PDF of the following documents:
Competitive Programme Fees Policy
Competition Team Handbook 2018